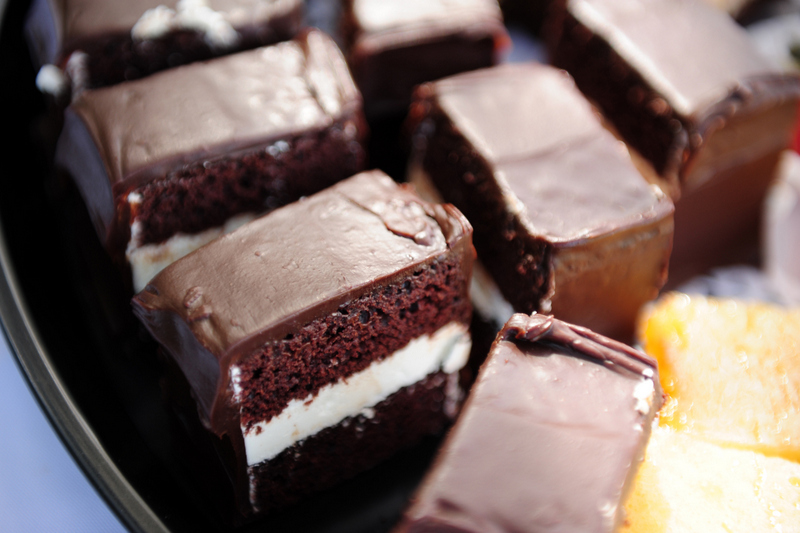 Bakery Menu
 We ask for 48 hrs notice for all special orders.
Find our full catering menu as a PDF here !
Cookie & Brownie Platter
An assortment of small cookies and brownies.
Mini Pastry Platter                       
A tantalizing variety of mini eclairs, cream puffs, cream cheese brownies, lemon squares, cheesecake bites, and chocolate espresso squares.
Small (serves 10-15)
Medium (serves 25-35)
Large (serves 35-50)
Cheesecake Platter
$69.50 (serves 25-35) Vanilla cheesecake bars, topped with fruit & whipped cream, chocolate ganache, & cherries.
Cakes
Please note: some cakes available in single layer only
6 piece round $18.95
8 piece round $25.95
12 piece round $35.95
Half Sheet Single Layer $45.00 (serves 24-30)
Half sheet Double Layer $80.00 (serves 36-40)
Full Sheet Single Layer $90.00 (serves 50-60)
Full Sheet Double Layer $ 175.00 (serves 80-100)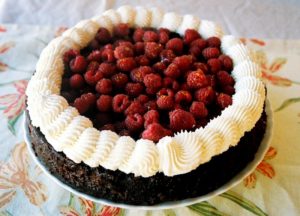 Bittersweet Chocolate Espresso Torte
(half sheet $65, full sheet $125
)
Dense, rich flourless chocolate torte topped with fresh fruit & our own whipped cream. (Gluten Free)
Black Forest Cake
Rich chocolate cake layered with whipped cream, sweet dark cherries and drizzled with chocolate.
Carrot Cake
Traditional carrot cake with cream cheese frosting & crushed walnuts.
German Chocolate Cake
Chocolate cake layered with a heavenly combination of coconut, pecans, and ganache.
Grandma Cake
Three layers of devils food cake, layered with vanilla buttercream & coated in chocolate ganache.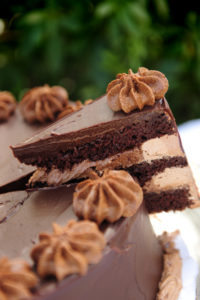 Hazelnut Chocolate Mousse Cake
(half sheet $65, full sheet $125)
Four layers of chocolate cake layered with Frangelico mousse & ganache, topped with mousse rosettes & toasted hazelnuts. 

Tiramisu Cake
Yellow Cake soaked with espresso and layered with marscarpone mousse
Extreme Chocolate Cake
An amazing combination of 4 different, chocolate cake batters baked and topped with chocolate mousse and chocolate ganache.
 Vegan Cake
Choose  chocolate cake or yellow cake.  We offer vegan vanilla, chocolate, mint or raspberry frosting.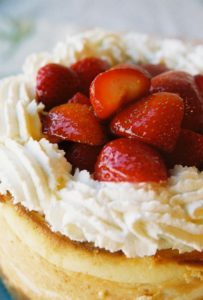 Vanilla Cheesecake
(half sheet $65, full sheet $125)
Black Sheep's classic cheesecake, topped with glazed fruit.
Chocolate Cheesecake
(half sheet $65, full sheet $125)
Chocolate cheesecake with a  graham cracker crust, topped off with whipped cream and chocolate ganache.
Pumpkin Cheesecake
(half sheet $65, full sheet $125)
A creamy classic infused with pumpkin pie spices and pumpkin filling.
Topped with whipped cream.
Cupcakes
one dozen – $32.50 / each – $2.95
Fresh Fruit Tarts
Individual Size $4.95 / Large (serves 8) $30.00
Handmade pastry tart filled with vanilla pastry cream & topped with assorted fruit
Coconut Chocolate Mousse Tart (GF)
Individual Size $4.95 / Large (serves 8) $30.00
Coconut tart filed with chocolate mousse