Local Vendors
At Black Sheep Deli, we are committed to using the most locally available products whenever possible. Here are some of the local farms we buy from to bring you the most delicious and locally grown sandwiches, salads, coffee, bread and pastries!
Read about our work with CISA and find a recipe for Nick's Garlic Scape Pesto here!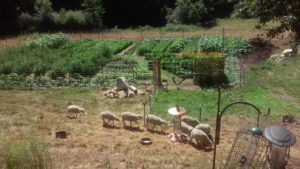 ---
Mapleline Farm, Hadley, MA

Hormone free milk and dairy products used in many dishes (like homestyle mac and cheese!), pastries, lattes and more

Sidehill Farm, Hawley, MA

All natural, fresh yogurt from grass-fed cows for the ultimate breakfast pleasure!

Warner Farm, Sunderland, MA

Warner Farm (growing food for almost 300 years) bring us delicious blueberries and strawberries for fruit tarts, cakes, and cheese and fruit platters
Gill Greenery, Gill, MA

Fresh, local sprouts used in sandwiches and wraps

Plainville Farm, Hadley, MA

Butternut squash for when soup season comes around! (You'll be sorry if you don't try it!)

Cabot Cheese Co-Op, Cabot, VT

Cabot Co-op uses farms from all over New England to cream the best butter and make the best cheese.

Dean's Beans, Orange, MA

Dean's Beans responsibly sources coffee beans from all over the world to share it with our local community! All coffee products sold here at Black Sheep come straight from Dean's Beans!